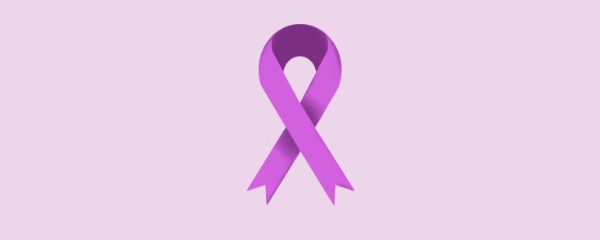 "WE ARE FAMILY "
Produced by: Fire Films, Corinne Maunder.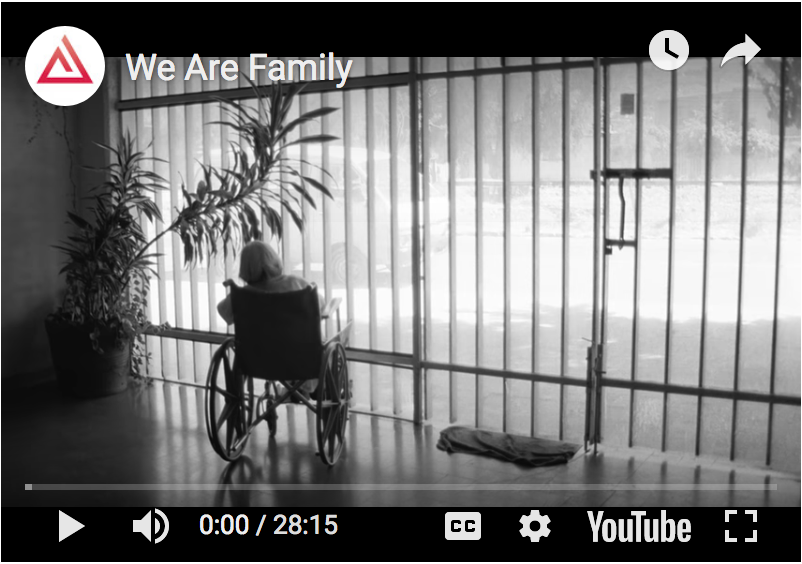 "Just because your living with dementia and a different reality doesn't mean you haven't got feelings, doesn't mean you don't need to do things or feel important, I think we are all the same we've all got feelings and that's what matters most, feelings matter most."
-Care Home House Leader
"A person with dementia does not have behaviors they have feelings…Because they've moved from being a thinking being to a more heightened feeling being it would be imperative of us to reach someone on a feeling level to the last breath is even greater."
-Dr. David Sheard Founder Dementia Care Matters.
firefilms.com.au
---
"ALZHEIMER'S: EVERY MINUTE COUNTS "
Produced by: PBS, TPT National Productions, Gary Richman, Elizabeth Arledge.
Directed by: Elizabeth Arledge.

"Its going to sink the healthcare economy and in turn sink the national economy…we have a chance to avoid that, but to do so we have to fund the research to find the cure."
–Preview PBS Alzheimer's: Every Minute Counts
"Alzheimer's: Every Minute Counts is an urgent wake-up call about the national threat posed by Alzheimer's disease. This powerful documentary illuminates the impending social and economic crisis for America unless a cure for Alzheimer's is found."
-pbs.org
---
"BACKING OUT OF TIME"
Produced and Directed by: Mary Rosanne Katzke.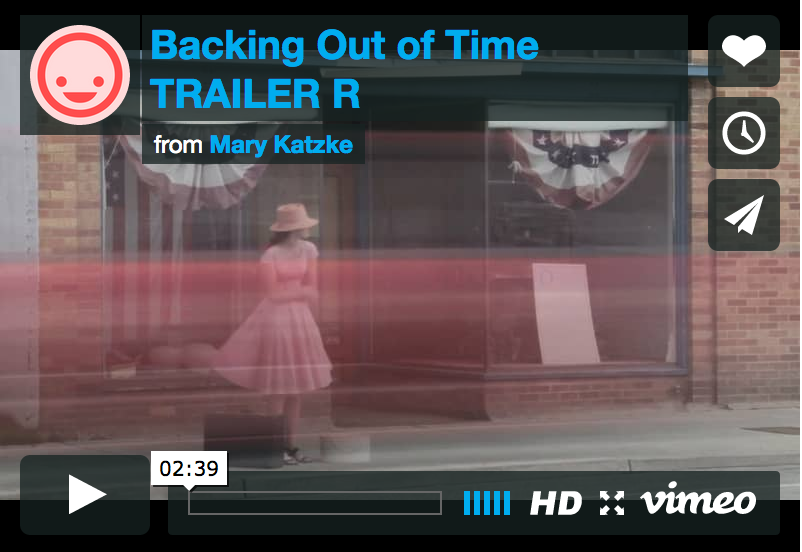 "This shock, frustration and exhaustion which these families face are felt by the viewers and can assure those who may be facing similar situations that
they are not alone."
-backingoutoftime.org
Backing Out of Time tells the stories of five caregivers who are caring for their aging,dependent parents who suffer from Alzheimer's disease or related dementia The documentary's website provides cross-cultural perspectives on Alzheimer's disease and related dementia and features forward-thinking leaders in the field of aging. The filmmakers hope to provide education, awareness, comfort, information and support for dementia and Alzheimer's caregivers.
---
"THE GENIUS OF MARIAN"
Produced and Directed by: Banker White and Anna Fitch.
"I have been making documentary films for more than a decade, and each project has been deeply important to me in its own way," says director Banker White. "The Genius of Marian is the most personal and challenging project I have ever undertaken. I approached this film both as a loving son and as a patient observer."
–pbs.org
"In 2008, Pam White began to write a biography of her late mother, Marian Williams Steele, a notable New England painter whose impressionist landscapes and portraits hang in several museums. Steele had died of Alzheimer's disease and a year after White launched her project, she herself was diagnosed with early onset Alzheimer's."
"The film…works as both a tribute to Pam White and a poignant personal exploration of the impact Alzheimer's disease can have on a single family – twice, in this case, involving successive generations of women."
–source: washingtonpost.com article: PBS Shows Alzheimer's Toll through Filmmaker's Mother
---
"DO YOU KNOW WHAT MY NAME IS?"
Produced by: Shigeru Ota.
Directed by: Naomi Kazama.
"The six-month-long treatment put into action is the fruit of the cooperative research of Dr. Ryuta Kawashima and KUMON. It was developed in Japan in over a decade of practical application in collaboration with professional caregivers at care facilities. Sessions take place every day for 30 minutes. They consist of short reading and writing exercises and simple arithmetic questions, all administered in a conversational manner by facility staff."
-doyouknow.jp
The documentary 'Do you know what my name is?' is the result of a dementia research study by Dr. Ryuta Kawashima in Cleveland, Ohio.
"Dementia, nursing home staff John Rodeman reminds us, is an awful disease. The afflicted can forget things that happened moments ago, just as they can forget the names of their children. But since 2011, there's been hope: Cleveland's Eliza Jennings Senior Care Network is the first site in the United States to conduct research on a program of learning therapy that can reverse symptoms of dementia. Devised by neuroscientist Ryuta Kawashima, it has already helped thousands of people in Japan."
-clevelandfilm.org
---
"THE SUM TOTAL OF OUR MEMORY"
Produced by Barbara Klutinis.
"You know you realize that this is not just her disease, that you're going to live with this too for how many years that Kathy is here."
-thesumtotalmovie.com
"With this film, I wanted to put a face on this disease that has so often been out of the public eye. I did not identify the interviewees with the traditional titles because I feel they are 'everyman,' not famous people like Glen Campbell, Pat Summitt, or Ronald Reagan, but everyday people struggling alongside a diagnosis of a terrible illness. I wanted to bring to light some of the many issues that accompany a diagnosis of Alzheimer's, both practical and emotional."
source:thesumtotalmovie.com
---
"EXTREME LOVE - DEMENTIA"
Produced by Louis Theroux. BBC.
"It's reckoned that one in eight Americans aged 65 and over has Alzheimer's - the most common cause of dementia. Nearly half of the over 85s has the disease. As medical science has become better and better at prolonging our lives, the mental side of things hasn't kept pace. Nowhere is this more in evidence than in Phoenix. For years Phoenix has been a mecca for America's elderly, who are attracted by the year-round sun and dry desert heat.
Now increasingly it is a kind of capital of the forgetful and the confused. Not coincidentally, Phoenix is also pioneering the way dementia sufferers are cared for and treated."
-bbc.com
'Extreme Love-Dementia' takes place in Phoenix, Arizona at a dementia care facility, and examines the reality and struggle of living in a world with dementia.
---
"SPARKY:CONNECTION OF COURAGE"
Produced and Directed by: Joleen Firek.
"The documentary, Sparky: Connection of Courage, is a heartwarming father/daughter love story, which demonstrates the power of love in the face of death. The movie's mission is to raise disease awareness and to teach caregivers that they can survive this life-changing experience. Sometimes you have to reach out for help. Sometimes you have to look inside."
-franklyspeakingalz.wordpress.com
The film Sparky: Connection of Courage profiles a man with Alzheimer's and his daughter's attempt to record his journey.
---
"CAREGIVERS: THE ALZHEIMER'S PROJECT"
Directed by: Bill Couturié. Produced by: HBO Documentary Films.
"Caregivers is a collection of five portraits, each of which highlights the sacrifices and successes made by people experiencing their loved one's gradual descent into dementia."
-www.alz.org
"HBO's 'The Alzheimer's Project' takes a look at the faces behind the disease - and the forces leading us to find a cure. This multi-platform series reveals groundbreaking Alzheimer's discoveries and the effects this debilitating and fatal disease has on those with Alzheimer's and their families.
www.alz.org
---
"THE CAREGIVERS DOCUMENTARY"
Produced by: Jeffrey Morgan.
"It's hard, it's really hard. I work full time, you know I have a husband family try and do everything and I want to do what's right for her. I want to do what I know I should be doing for her."
-Film:The Caregivers.
The Caregivers Documentary is a film by Jeffrey Morgan and tells the stories of four different families who are coping with Alzheimer's disease.
-iimdb.com
---
"IN SEARCH OF MEMORY"
Produced by: Petra Seeger. Icarus Films.
" 'Memory is everything. Without it we are nothing,' says neuroscientist Eric Kandel, winner of the Nobel Prize for his groundbreaking research on the physiology of the brain's storage of memories.
As he explains, memory is the glue that binds our mental life together and provides a sense of continuity in our lives."
-icarusfilms.com
"Both through its personal journey into the memory of this amazingly spry and witty 79-year old, especially his traumatic experiences during the Holocaust, and a visit to his Columbia University laboratory, where Kandel and his colleagues demonstrate their experimental research, 'In Search of Memory' examines how the brain stores memories, the difference between short-term and long-term memory, Alzheimer's and age-related memory loss, and structural modifications to the brain that enhance memory."

" 'In Search of Memory' is a compelling blend of autobiography and history that recounts the life of one of the most important neuroscientists of the 20th century and illuminates scientific developments in our understanding of the brain's role in recording and preserving memory. In addition to archival footage and dramatic re-creations of Kandel's childhood experiences in Nazi-occupied Vienna and his formative years as an emigrant in New York, the film features discussions with Kandel, friends and family, as well as his public lectures in Vienna and New York, which explore both his professional and personal life, especially his emotional ties to Judaism.
-icarusfilms.com
---
"FACING ALZHEIMER'S: AN AFRICAN-AMERICAN PERSPECTIVE"
Produced by: TMK Productions, Inc.
Hosted by: National Public Radio personality Richard Steele.
"The decision to place a loved one in a nursing home is a major decision, especially from the African American community, we are a proud people and when I say that I mean that we're used to taking responsibility for each other."
-Documentary: Facing Alzheimer's: An African American Perspective
" 'Facing Alzheimer's: An African American Perspective' examines the challenges many African-American families face today as they try to deal with this difficult and often misunderstood disease. Hosted by National Public Radio personality Richard Steele, 'Facing Alzheimer's' features interviews with doctors, caregivers, patients, church groups, support organizations, as well as home health and long-term care providers. The documentary delves into the symptoms, cultural issues and community resources that are available to those coping with this debilitating disease." TMK Productions are distributed to PBS through American Public Television.
source:aptonline.org
---
"MUM AND ME"
Produced by: Holly Bourne Starecka and Sue Bourne. Wellpark Productions.
"Sue's mother Ethel has Alzheimer's and lives in a nursing home in Scotland. For three years Sue and her daughter Holly filmed the time they spent together with Ethel. The reason Bourne wanted to make this film was that everything she had seen about Alzheimer's had been terribly sad and depressing. Yet her experience with Holly and Ethel was that, in spite of her mother having Alzheimer's, the three of them still managed to laugh and enjoy their time together."
-wellparkproductions.com
The film 'Mum and Me' directed by Sue Bourne tells the story of Sue's own mother. The film documents what it is like for Sue's mum to live with Alzheimer's and the effects on her family with an honest, no holds barred approach. The film also highlights three generations of mother, daughter and granddaughter and how each is affected by Alzheimer's disease.
---
"WHEN WORDS FAIL, MUSIC SPEAKS"
Produced by: The Alzheimer Society of Canada.
"You don't always have to understand all the words, but there is a feeling to music – it's a good feeling."

"Alzheimer's disease is the most common form of dementia. It's a progressive neurological condition that goes through a variety of stages. It's ultimately fatal."
-alzheimer.ca
---
"ALIVE INSIDE"
Produced And Directed by: Michael Rossato-Bennett.
"Alzheimer's and dementia are a reality for an increasing and often unseen population. Though well intentioned, many nursing homes are not equipped to fully meet the needs of these residents.  We are left with several questions without any real or comforting answers: How do I want to age? What can we do for our loved ones? Can we do better? "Alive Inside" investigates these questions and the power music has to awaken deeply locked memories. The film follows Dan Cohen, a social worker, who decides on a whim to bring iPods to a nursing home.  To his and the staff's surprise many residents suffering from memory loss seem to "awaken" when they are able to listen to music from their past.  With great excitement, Dan turns to renowned neurologist Dr. Oliver Sacks, and we follow them both as we investigate the mysterious way music functions inside our brains and our lives." source:ximotionmedia.com
The aim of the documentary "Alive Inside" is to promote personalized music programs in nursing homes and as a legitimate form of music therapy to help care for seniors with dementia. Find out more about "IPOD Music and Memory" Program which the documentary "Alive Inside" is based on.
---
"TRACY AND JESS: LIVING WITH EARLY ONSET ALZHEIMERS"
Directed by: James Dreyer.
"When dementia is diagnosed at 30 and 40 years old..."
"Of the millions of people living with Alzheimer's disease, only 5 to 10 percent develop symptoms before age 65. Experts estimate that some 500,000 people in their 30's, 40's, and 50's have Alzheimer's disease or related dementia. 'Tracy & Jess: Living with Early Onset Alzheimer's' is the amazing story of two women diagnosed with the disease at early ages. The film focuses on the challenges and triumphs of Tracy, Jess, and their families."
source: amazon.com
---
"I REMEMBER BETTER WHEN I PAINT"
Directed By: Eric Ellena and Berna Huebner.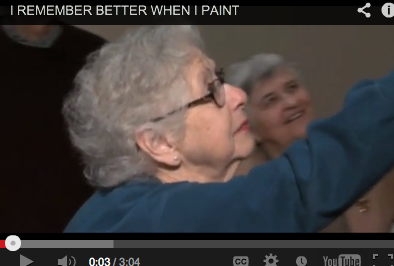 "This is an essential DVD for all people who have some relation with the disease, those who want to learn more about non-pharmacological possibilities for dealing with the disease, and institutions exploring methods for patients and residences. Including the Bonus Tracks: 'Organizing an Outing,' 'Organizing a Creative Workshop,' 'The Importance of Physical Exercise,' 'Recreating Social Bonds,' 'The Hearthstone Method,' 'The Memory Gardens' and 'Art and Care Until the Last Stages.' Initiatives that get people with Alzheimer's involved in art and creative workshops are producing remarkably posistive results. Dozen of day care centers, nursing homes and assisted-living facilities are using drawing, painting and museum visits as effective therapies, making it possible to improve the quality of life and restore a dialogue between caregivers and families. Scientists have discovered that the parts of the brain related to emotions and creativity are largely spared by the disease. Today experts recognize the benefits of these new approaches that dramatically change the way we look at the disease."
source: amazon.com
---
"THE ALZHEIMER'S PROJECT"
Produced By: HBO Documentary, The National Institute on Aging at The National Institutes of Health, John Hoffman, Maria Shriver.
" 'The Alzheimer's Project' is a four part documentary series. The first part entitled, 'The Memory Loss Tapes" looks at seven individuals living with Alzheimer's and the progression of the disease. 'Momentum In Science' looks at the laboratories and clinics of leading scientists and physicians and the cutting-edge research advances. 'Grandpa, Do You Know Who I Am?' by Maria Shriver expresses what it is like to be a child or grandchild of someone with Alzheimer's. 'Caregivers' shows the sacrifices of people who go through the experience of having a family member with dementia.source:hbo.com
---
"ALZHEIMER'S THE 36-HOUR DAY: A FAMILY GUIDE FOR CAREGIVERS"
Produced by: Video Press - Med School Maryland Productions.
Narrated by: Peter V. Rabins.


"An excellent introduction to Alzheimer's disease and to the nationally acclaimed best seller, 'The 36-Hour Day: A Family Guide to Caring for People with Alzheimer Disease, Other Dementias, and Memory Loss in Later Life.' Peter V. Rabins, MD, MPH introduces Alzheimer's through one family's experience providing a framework to better visualize the reality faced by caregivers."
source: videopress.org
---
"THERE IS A BRIDGE"
Produced by: Michael Verde.
Directed by: Ted Kay.



"Hosted by former United States Poet Laureate Robert Pinsky, 'There Is a Bridge' explores the deep, complex nature of human solidarity by weaving together mental health, psychology, art, philosophy and education to highlight individuals and path-breaking programs reaching out to elders affected by Alzheimer's disease.
source: memorybridge.org
---
"COMPLAINTS OF A DUTIFUL DAUGHTER"
Produced and Directed by: Deborah Hoffmann.



"What's a daughter to do when her mother asks: "How exactly are we related?"


source:imdb

-Academy Award for Documentary Feature



"With profound insight and a healthy dose of humor, Complaints Of A Dutiful Daughter chronicles the various stages of a mother's Alzheimers Disease and the evolution of a daughters response to the illness. The desire to cure the incurable to set right her mothers confusion and forgetfulness, to temper her mother's obsessiveness gives way to an acceptance which is finally liberating for both daughter and mother. 'Complaints Of A Dutiful Daughter' is far more than a story about Alzheimer's and family careers. It is an exploration of family relations, ageing, the meaning of memory, and the tenacity of love."

source: roninfilms.com.au



---
"LIFE PART 2 - THE NEW FACE OF ALZHEIMER'S"
Produced by: PBS.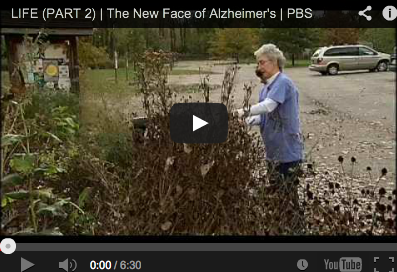 "First, our cameras travel to the Indiana home of Mary Ann Becklenberg, a courageous, articulate 64-year-old woman who is speaking out for herself and others in the early stages of Alzheimer's. A former hospice worker who is now on the Early Stage Advisory Committee for the Alzheimer's Association, Becklenberg sees her diagnosis as a challenge to inform others about a disease that now afflicts more than five million Americans.
Host Robert Lipsyte, an Emmy winner and former New York Times columnist, uses his tough-minded journalistic instincts, ever-ready wit, and very strong opinions to ensure that baby boomers overcome their denial and face facts: the time to do something about age-related issues is right now."

source:pbs.org




---
"GRACE"
Produced by: Video Press - Med School Maryland Productions.


"Grace" is an Emmy award-winning documentary.

"This classic program follows seven years in the life of Grace Kirkland and the inspirational caregiving efforts of her husband, providing a documentation of Alzheimer's disease from near the time of diagnosis until death. Tracking Grace from the first stage of the disease where she's already having short-term memory problems, the program continues to document as she loses her ability to speak and finally her ability to walk and eat."
source: videopress.org
---
"MALCOLM AND BARBARA LOVES FAREWELL"
Directed By: Paul Watson.


A Controversial moment of death is filmed in 'Malcolm And Barbara Loves Farewell.'
"In 1999, after four years filming, ITV's 'Malcolm and Barbara: A Love Story' won critical acclaim for the moving account of how Malcolm and Barbara Pointon's happy lives were turned upsidedown when Malcom developed Alzheimer's. Eight years on, following Malcolm's death, a sequel to the film, 'Malcolm and Barbara: Love's Farewell' was shown on ITV1.

The documentary chronicles Malcolm's last moments as he slipped into a coma - he died three days later. There was criticism that these private moments were filmed but Barbara disagrees. She said: 'If he had been able to speak, Malcolm would have said, 'go for it'. Throughout his life he believed decisions must be based on the greatest good for the greatest number."
source:itv.com
---
"FORGETFUL NOT FORGOTTEN"
Directed and Produced by: Chris Wynn.



" 'Forgetful Not Forgotten' is an intimate portrait of a family coming to grips with the realities of early-onset Alzheimer's disease. When John Wynn is diagnosed with the disease at the relatively young age of 57, his son, Chris, decides to chronicle his family's journey to John's final days.
An honest, moving, and at times heartbreaking film, 'Forgetful Not Forgotten' weaves past and present to both celebrate the man who was and mourn his painfully slow and steady disappearance. As much as this is a film about the changes Alzheimer's brings to a patient's life, it is even more about how this impacts on family and friends."
source: forgetfulnotforgotten.com
---
"CAN GERRY ROBINSON FIX DEMENTIA CARE HOMES?"
Produced by: BBC.


"…so the work of turning Summervale into a home began - the staff got rid of their uniforms, started eating with the residents and set about filling up the stark empty spaces with distractions such as dolls, toys and other everyday objects. Gerry noticed an immediate impact, not only on residents, but on the staff too. It was fascinating to see how quickly these small changes took hold."-BBC.com
"Incredibly there is no minimum standard of training required to work in a dementia care home, and in order to own a home, the only stipulation is that you must not have a criminal record... Gerry Robinson and I set out to highlight some of the difficulties facing the industry and examine the general level of care that prevails in many care homes throughout the country - often with shocking results." –Dinah Lord, Executive Producer."
source:BBC.co.uk
---
"IT'S NOT A DISGRACE…IT'S DEMENTIA"
Produced by: Why Documentaries. Illawarra Ethnic Communities Council. Department of Ageing Disability and Home Care. Alzheimer's Australia.


"Too many people still view people with dementia as though they were going crazy. Families are often embarrassed, ashamed or unable to cope with the illness."
source: Why Documentaries

"A series of dementia films for the Ukrainian, Arabic, Portuguese and Serbian Communities on dementia. Symptoms of dementia and early intervention are discussed. This dementia film is in Spanish with English subtitling. Subtitling/voice overs are possible in other languages for multi-ethnic communities to better understand and cope with dementia."


source:whydocumentaries.com




---
"QUICK BROWN FOX: AN ALZHEIMER'S STORY"
Directed by: Ann Hedreen, Rustin Thompson.

Produced by: Ann Hedreen.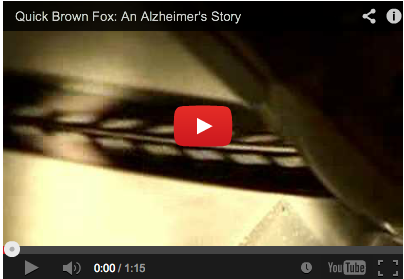 "About the Title: The title and opening sequence of the film comes from the old typist's test line, 'The quick brown fox jumped over the lazy dog.' As we see those words repeated over and over again on an old teletype machine, we are introduced to the unnerving pattern of Alzheimer's Disease, which often begins with symptoms like repeating the same story or phrase over and over again… and goes on, like a broken teletype, to thoroughly mangle and jumble the brains of its victims."source: quickbrownfoxfilm.com

"This powerful and poetic film combines a moving family journey with an insightful look at the science and politics of Alzheimer's—a disease that now affects more than 18 million people worldwide. Hedreen's uncompromising pursuit of possible causes and potential cures takes her from the copper mines of her mother's childhood home in Butte, Montana to an Alzheimer's research center in Washington where she volunteers as a research subject—with humorous and humbling results. And her fascinating interviews with prominent doctors and researchers offer insight into the fickle politics of funding and recent controversies surrounding stem-cell research. Interweaving super-8 home movies, 1950s medical films and heartbreaking interviews with her family, Hedreen's timely film bravely confronts the disease that has mangled the mind of her once beautiful and brainy mom, and raises profound questions about just how important our memories are."source: roninfilms.com.au
---
"JOURNEY OF NO RETURN"
Produced By: ABC Australia.



"Since Alzheimer's disease was first documented, waves of dementia roll through the generations. About 200,000 Australians are sufferers now; by 2050 the number is expected to exceed 700,000. Within a decade, dementia will be Australia's number one disability. The national dementia bill is now $6 billion a year and rising."
source:abc.net

"This moving documentary looks at the impact of dementia on sufferers and their families. It follows three people with dementia over a period of 12 months. 'They knocked me right over', sobs Daphne distraught. 'I haven't got anybody.' A routine trip to the bathroom has gone awry and nothing will console her. But her husband, Jack, has vowed to look after her 'to the end.' He brings her fresh muffins, wipes away her tears and hugs her tenderly. 'You're my lady and always have been,' he whispers."
source:journeyman.tv
---
"PLANNING FOR HOPE"
Directed and Produced by: Susan Grant and Cindy Dilks.



"Frontotemporal dementia effects a mostly younger population..."

"My name is Susan, and I suffer from a disease of the Frontotemporal lobes (FTD). Instead of going silently into that good night, my caregiver Cindy and I have dedicated two precious years of what remains of my life to creating a film, "Planning for Hope." Bold and arresting and still in the works, it is aimed at unveiling the truth about Frontotemporal Disease, addressing the surrounding issues and controversies, and offering hope to those affected."




source: ftdtheotherdementia.com



"With unprecedented access inside the mind and life of a patient (Susan) coping with Frontotemporal Disease (FTD), 'Planning for Hope' is a documentary and examination of the disease offering a unique look into lives of patients and families effected by FTD."


'source: Academy of Molecular Imaging.




---
"10 MOUNTAINS 10 YEARS"
Produced and Directed by: Jennifer Yee.
Back Light Productions.

"Chronicling the worldwide epic created by mountain climber Enzo Simone. '10 Mountains 10 Years' is a film that follows his international team of mountain climbers as they scale 10 of the greatest peaks in the world to raise awareness and funds for Alzheimer's and Parkinson's Disease. 45 vertical miles. 7 countries. 6 continents. 2 diseases. And one decade. Focusing on Mt. Kilimanjaro, the film tracks the greatest advances happening in the medical community alongside the team's endurance at altitude. Over 92 million people worldwide have a family member battling Alzheimer's or Parkinson's Disease. This is a story of hope and of common everyday people coming together to change this world and leave something better behind. A collaboration with the Leeza Gibbons Memory Foundation and the Focus On a Cure Foundation for Parkinson's, proceeds from the movie go towards medical research and caregiver programs."
source: backlightproductions.com
---
"YOU'RE LOOKING AT ME LIKE I LIVE HERE AND I DON'T"
Produced by: Scott Kirschenbaum, Shane Boris.

Directed by: Scott Kirschenbaum.



"The first documentary about Alzheimer's disease filmed entirely in an Alzheimer's unit told from the perspective of an Alzheimer's patient."


"Drawn to family photographs scattered throughout her bedroom, Lee is unable to identify herself in the pictures. Combing through the items in her closet, she mistakes an everyday outfit for her wed- ding dress. Seeking answers elsewhere, Lee finds a birthday card but cannot recognize that she is the "Mom" to whom the card is addressed. Exasperated and missing her children, Lee embraces a make- believe family of stuffed animals. ...Immersed in the confounding logic of Alzheimer's, Lee's story adheres to the discordant, but never fully crippling, rhythms of the disease. Here is one extraordinary woman who will not let us forget her even as she struggles to remember herself."
source:yourelookingatme.com
---
"ALZHEIMER'S ADVOCATES: REMEMBERING THE CAREGIVERS"
Produced by: WXEL, South Florida Today.


PART 1
---
"UNDERSTANDING DEMENTIA FILM SERIES"
Produced and Directed by: Kate Sturgess, Alistair Briggs.




"This is the story of five carers. Ordinary people, from very different backgrounds, who found themselves in the position of carer of a husband, wife, brother, sister, father or mother who has developed dementia. They talk about the desperate position they found themselves in – how their once certain life paths were turned upside down as they had to cope, often with little or no help, with being entirely responsible for the every need of their loved-ones who were increasingly unable to look after themselves. They talk of the sadness and frustration which accompanies this disease. Of the often erratic and unpredictable behaviour of the sufferers, of their guilt at rising feelings of resentment of their sadness as they watch a loved-one 'disappear' bit by bit. Of their fear of the future. And then they talk about finding SPECAL (Approach), who offered them a way to understand dementia in a way that allowed them to help the sufferer remain contented, despite what was happening to them and to understand how they, as carer could cope with the demands the situation placed on them."

source:understandingdementiafilm.wordpress.com




---
"THE LONG GOODBYE"
Produced by: Gina Twyble.

Directed by: Kaye Harrison.



"The Long Goodbye" follows the journeys of three families living with dementia as they struggle to maintain the identity and dignity of those they love. Filmed over a three year period, the documentary celebrates the capacity of the human spirit to search for meaning and hope when the end is known and inescapable."
courtesy: thelonggoodbye.com.au
---
"THE FORGETTING: A PORTRAIT OF ALZHEIMER'S"
Directed by: Elizabeth Arledge. Produced by: Elizabeth Arledge, Naomi S. Boak, Whitney Johnson.




"Alzheimer's has mushroomed in just the last fifteen years from this relatively rare disorder to this extremely common phenomena because so many of us are living to the ages where the risks are so significant."
-The Forgetting: A Portrait of Alzheimer's

" 'The Forgetting: A Portrait of Alzheimer's is a Primetime Emmy award-winning documentary that takes a dramatic, compassionate, all-encompassing look at the growing epidemic of Alzheimer's disease. The cornerstone of the project is a 90-minute documentary based on David Shenk's best-selling book. Like Shenk's book, the documentary weaves together the history and biology of the disease, the intense real-world experiences of Alzheimer's patients and caregivers, and the race to find a cure...The Forgetting re-broadcast includes a new follow-up show The Future of Alzheimer's with David Hyde Pierce. Pierce and a panel of Alzheimer's experts will explain and contextualize the latest scientific findings, emphasize the importance in addressing and treating Alzheimer's within ethnic and racial minorities, and discuss the future of Alzheimer's research and treatment." source:pbs.org
---
"CARING FOR THE CAREGIVER"
Produced by: Maine Public Broadcasting Network. MPBN.


"Weaving interviews with health experts caring for Alzheimer's patients with the personal experiences of Mainers who have suddenly found themselves dealing with the gradual, painful loss of a loved one, Caring for the Caregiver is designed for anyone who is now, or who may one day need to confront this difficult reality."

"Dementia and Alzheimer's disease have a life changing impact on the patient and on those who care for them. In this documentary we'll examine the challenges facing these caregivers and explore the resources available to help them."
-Documentary: Caring For The Caregiver Caring for the Caregiver

---
"AMANDA'S CHOICE"
Produced by: CBC, The Nature of Things.


"While most sufferers of Alzheimer's are over 65, 'Amanda's Choice' looks at a rare form of the disease. As the story unfolds, Amanda witnesses the rapid decline of her mother, Susan, who is only 39 years of age. Fearing she could meet the same fate within 15-20 years, Amanda faces the wrenching dilemma when offered a gene test that can conclusively determine her own destiny. New treatments and preventative measures are explored offering hope for Alzheimer's patients in the future."source:cbclearning.ca

---
"WHEN THE MIND FAILS: A GUIDE TO ALZHEIMER'S DISEASE"
Produced By: Films Media Group.

"People with Alzheimer's disease usually live at home, cared for by family members—who, like the patient, may be feeling uncertain and scared. But authoritative information can help ease the fears and concerns. This program is a step-by-step Alzheimer's primer for caregivers and patients alike, divided into the following sections: First Signs, Diagnosis, Middle Stages, Getting Organized, Coping, Day to Day, Last Stages, and Hope for the Future, a segment highlighting the newest genetic research. A combination of case studies and medical insights, this documentary is a vital tool in coming to terms with Alzheimer's."
source: Films Media Group.
---
"ALZHEIMER'S: MY MOM, OUR JOURNEY"
Produced and Directed By: Julie Meisner Eagle.


"A documentary about one American family coping with the magnitude of a fatal disease. The story is seen through the eyes of Gloria and her three children as they experience first hand the devastating effects an incurable illness has on a family."


source: gloriajean.org
---
"BEYOND MEMORY: A DOCUMENTARY ABOUT DEMENTIA"
Directed and Produced by: Sharon Bartlett and Maria LeRose.
This documentary highlights Canadians with dementia.
" 'Beyond Memory: A Documentary About Dementia' is an intimate revelation of what it's like to live with dementia, or to love someone with this disease. The five individuals and families profiled in the film offer an essential lesson about living each day. Elaine, diagnosed with Alzheimer's disease at just 47, works to keep her brain active, and becomes the first known Canadian with Alzheimer's to climb Mount Kilimanjaro. A 1950s rhythm & blues star, 82-year-old Milton can't remember the words to songs but can still show off the dance moves that first attracted his wife, Ruby. George gave up his job and moved home when his mother's memory failed. He patiently reminds her of all the important details in her life, save one: Alberta's forgotten she has Alzheimer's. Gord, a former Revelstoke maintenance supervisor for CP Rail, works closely with his wife, Claudia, to make plans for his future. And, suffering from a rare and fast-moving form of dementia, 57-year-old Dede has pretty much had her memory wiped clean. Yet, when her husband, Gerry, enters the room, she smiles. Her connection to him has survived her memory."
source:National Film Board of Canada
---
"WITNESSING DEATH: A GRANDSON'S REFLECTIONS ON ALZHEIMER'S"
Directed by: David Rosenthal.

" 'Witnessing Death: A grandson's reflections on Alzheimer's is a short video piece made by medical student David Rosenthal about the death of his grandfather Kurt Rosenthal from Alzheimer's disease."

source:amazon.com




---
"MEMORY FOR MAX, CLAIRE, IDA AND COMPANY"
Produced and Directed by: Alan King.

"In 'Memory for Max, Claire, Ida and Company,' Allan King brings us close to the people who reside and work in a home for geriatric care in this beautifully conceived, powerful documentary. For four months, King follows the daily routines of eight patients suffering from dementia and memory loss; the result is searing, compassionate drama that can bring to the viewer a greater understanding of his or her loved ones."
source:amazon.com
---
"ALZHEIMER'S DISEASE: FACING THE FACTS"
Directed and Produced by: Glenn Orkin and Carol Edwards.
Narrated by: Edward Herrmann.



" 'Alzheimer's Disease: Facing the Facts' is a new one-hour documentary that examines the personal and societal implications of the illness, and the latest research. Through profiles of families living with Alzheimer's and interviews with doctors and investigators on the front lines, the documentary shows how this overlooked disease threatens to crush America's health care system, and spirit."
source:alzheimersfacingthefacts.org

---